Going Green: Hainan Prefecture, Qinghai, Partners with Huawei to Build a 100% Clean Energy Data Center
The phase I of the Big Data Industry Park project in Hainan Prefecture has revolutionized data center construction. By cooperating with Huawei, we have achieved results that exceeded our expectations. Huawei's modular data center has met our high standards for reliability, flexibility, security, and energy efficiency, helping us realize our mission to build a high-standard big data center in the region.
CEO of Qinghai Yungu Big Data Industry Development Co., Ltd.
With an abundance of natural power resources — including hydro, wind, and solar — Hainan Prefecture, located in China's Northeastern Qinghai Province, is an important clean energy base for the country. This natural abundance translates into significant power cost advantages, a critical factor when developing data centers. That's perhaps why Hainan Prefecture is classified by the Ministry of Industry and Information Technology (MIIT) as a first level region for big data center development.
To take full advantage of the region's naturally cold and dry climate — alongside those abundant power resources — and advance a "New Energy + Big Data" strategy, the government of Hainan Prefecture commissioned the Big Data Industry Park project.
With a total planned area of 800,000 square meters, the project's stated aim is to become China's first big data industry demonstration base running solely on clean energy. Hoping to also develop into a model for others to follow — based on the principle of "One Core Zone and Four Bases" — the Park will ultimately play multiple roles. It will be the core area of the digital economy for Qinghai and, as such, a comprehensive experiment for a new kind of ecosystem. It will also act as a national-level big data Disaster Recovery (DR) base, a national-level big data energy industry base, and a national-level Tibetan service outsourcing base. Finally, it will serve as a model for China's entire western region, demonstrating the convergence of the digital economy and industry.
To achieve its ambitious aims, the Big Data Industry Park obviously requires data centers that adhere to the most stringent standards, across the board. But, in the initial stage of the project's data center roll out, the Park foresaw several challenges.
Traditionally, multiple device vendors are often involved in a project of this size, greatly complicating data center construction. Indeed, access to diverse devices can't be centralized nor unified, and Operations and Maintenance (O&M) becomes frustratingly complex. In addition, based on construction planning objectives, the different functional modules of different services — such as e-Government cloud, Smart City, and the Sharp Eyes project — need to be physically isolated, in order to meet security requirements of different regions.
This multiple vendor approach was clearly very difficult for the data center of the Big Data Industry Park, where a key aim was to keep down operating costs for the entire lifecycle of the data center, all the while simplifying O&M.
With all this in mind, and after a thorough discussion and comparison, Huawei's smart modular data center solution was selected for the Park's main computer room. The solution's focus on full lifecycle data center management, coupled with the intelligent management of power supply, cooling, and O&M systems — based on the principles of "Simple, Green, Smart, and Reliable" — matched the Park's requirements precisely. And such features also maximize the value of the data center infrastructure, happily enough.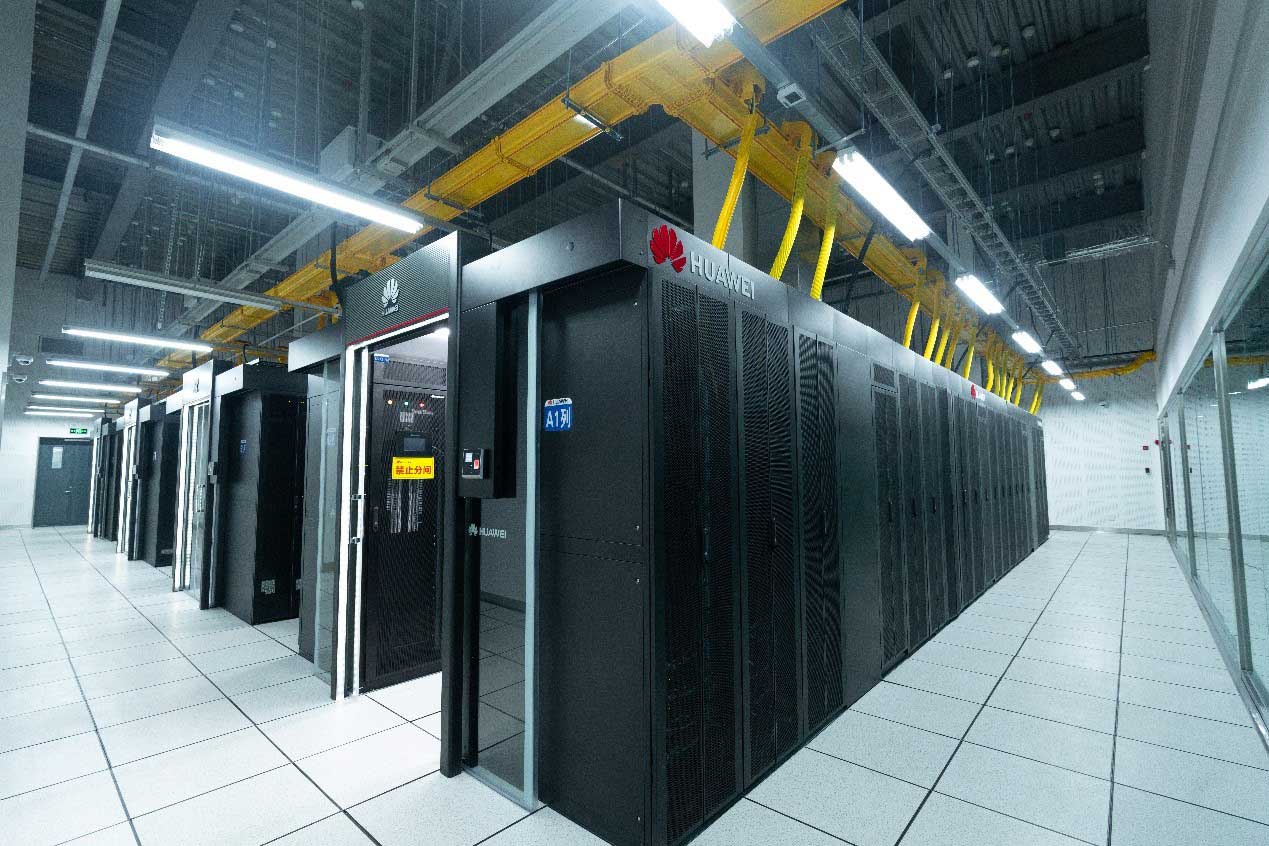 Simple: A modular design and factory prefabrication, saving deployment time and supporting quick service rollout.
In the first phase of the project, 16 smart modular data centers were deployed. Such modular architecture helped slash deployment time, shortening the construction period for the entire data center by three whole months. In addition, a single smart module effectively integrates power supply, cooling, monitoring, cabinet, aisle, and cabling, meaning one complete data center is just a single module. And each module can then be physically partitioned, based on service requirements, to guarantee service security.
Green: Cold aisle containment, Artificial Intelligence (AI), and an efficient modular Uninterruptible Power Supply (UPS) are used to save energy and reduce Operating Expense (OPEX).
Powered by a suite of cutting-edge technologies, Huawei's smart modular data center has improved the Power Usage Effectiveness (PUE) of the Park's computer room, helping it meet ambitious green goals and efficiency standards. Combining cold aisle containment, in-row cooling, an efficient modular UPS design, and proprietary iCooling@AI intelligent cooling optimization technologies, energy consumption of the cooling system has been significantly reduced, compared to traditional solutions. Indeed, the PUE of the Park's data center reaches a remarkable 1.4 and lower — 30% better than those traditional counterparts.
Smart: Huawei's NetEco smart management system ensures the stable running of services and simplifies O&M.
Huawei's NetEco smart management system was also deployed in the Big Data Industry Park's data center, providing visualized management on the running status of the computer room environment, cooling, and power supply, as well as distribution subsystems. This smart management system also offers proactive defense, rapid fault location based on alarms, and proactive fault isolation, ensuring the stable running of services and significantly simplifying the O&M workload.
Reliable: Redundancy design and physical isolation, ensuring service security and reliability.
The modular redundancy design of Huawei's solution prevents single points of failure, improving service reliability. In addition to the physical partition of the computer room, each modular data center in each computer room has been configured with an independent access control system. Different services and modules have been authorized hierarchically to ensure the security of upper-layer services. In addition, the Park complies with Uptime Tier 3+ and national A-level design standards, making it the most advanced and reliable cloud computing data center in all of Qinghai.
The official launch of the data center in phase I of the Hainan Big Data Industry Park marked a new era of cooperation between Qinghai and Huawei. Going forward, Huawei will work with Qinghai to promote the construction and development of the big data industry ecosystem. Working together with industry chain partners, the Park will be built into a big data industry cluster that first covers the whole province, then spreads across the country, and finally connects Central Asia and South Asia, driving the transformation of industry structure across sectors, supercharging the social and economic development of Qinghai.