Make Any Room A Data Center with Huawei's FusionModule2000
Indonesia boasts a massive population of 267 million. With a youthful demographic structure and a growing interest in IT technology and the internet, Indonesia's digital landscape is rapidly expanding. As per the Asosiasi Penyelenggara Jasa Internet Indonesia (APJII), the country's internet penetration rate surged to 78.19% between 2022 and 2023, providing a robust foundation for Indonesia's burgeoning digital economy.
To expedite the process of digital transformation, the Indonesian government has devised the Digital Indonesia Roadmap for 2021–2024. This roadmap aims to boost economic growth by emphasizing four key areas of digital transformation, namely digital infrastructure, digital government, digital economy, and digital society.
Construction of Digital Infrastructure is the Foundation of the Digital Economy
Matrix NAP Info Lintas Nusa (Matrix NAP Info) is a renowned telecommunications company in Indonesia, established in 2000. The company offers professional network and hosting services, providing safe and reliable solutions for enterprise users. To cater to the growing demand for its services, Matrix NAP Info has planned to operate and retrofit a simplified, secure, and eco-friendly data center within Hall B of MDC-JK3 Plaza Kuningan.
Due to the limited area of only 125 m2 and a ground clearance of 2.6 m, a traditional data center solution is not feasible. Additionally, traditional data centers require complex devices that come with high CAPEX and slow deployment.
Huawei utilized its expertise in scalability, reliability, and manageability to design an architecture for Matrix NAP Info. The areas were rezoned to optimize the solution. After a thorough scope definition and evaluation, Matrix NAP Info chose Huawei's FusionModule2000 smart modular data center solution. This solution not only achieves lower carbon emissions and higher reliability but also enables smarter operation.
Simple Installation and Swift Deployment
Compared to traditional data centers, the Huawei's FusionModule2000 offers greater adaptability and is not limited by installation environment. It requires less height for each floor or level, making it more versatile. Additionally, the smart module is prefabricated in the factory and integrates key components such as integrated UPS, cooling, and monitoring, resulting in a shorter construction period. This meets the Matrix NAP Info's construction requirements for fast deployment.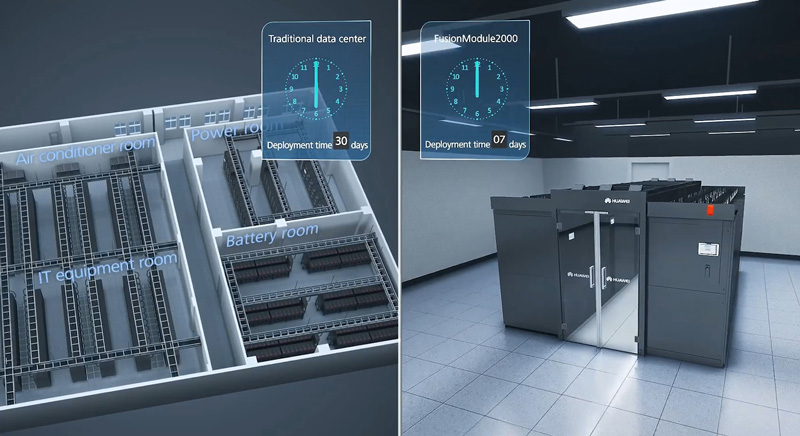 Green, Sustainable, and Energy-Efficient
In a conventional data center lacking cold or hot aisle containment, the airflow can become disordered, leading to potential hot spots. To address this issue, the project used cold aisle containment and in-row precision air conditioners to implement an efficient closed-coupled cooling system for IT equipment. This solution effectively curbs the occurrence of hot spots and improves cooling efficiency. Compared to traditional solutions, it achieves a 25% reduction in PUE.
Safe and Reliable Operation
The power supply system is the lifeblood of a data center, providing reliable and stable power. Huawei's UPS5000-E is a state-of-the-art modular redundancy design that eliminates single points of failure (SPOFs) and ensures uninterrupted service. Its power module, monitoring module, and bypass module are all hot-swappable, allowing for quick and easy replacement within just 5 minutes, significantly simplifying O&M. This modular UPS is highly efficient, with a 96% efficiency rate in double conversion mode at a 40% load rate. Additionally, the power module supports intelligent hibernation, allowing for high efficiency at low loads and significant savings on electricity fees for Nap Info.
Smart Operations and Streamlined O&M
The Huawei smart modular DC solution is a cutting-edge technology that comes equipped with the NetEco6000 intelligent O&M system that utilizes 3D visualization to monitor and detect crucial information such as temperature, humidity, water leakage, UPS, battery, and air conditioner running parameters of a data center in real-time. This eliminates the need for manual inspection and allows O&M personnel to use real-time alarm information to quickly identify and rectify faults, ensuring safe and reliable operations.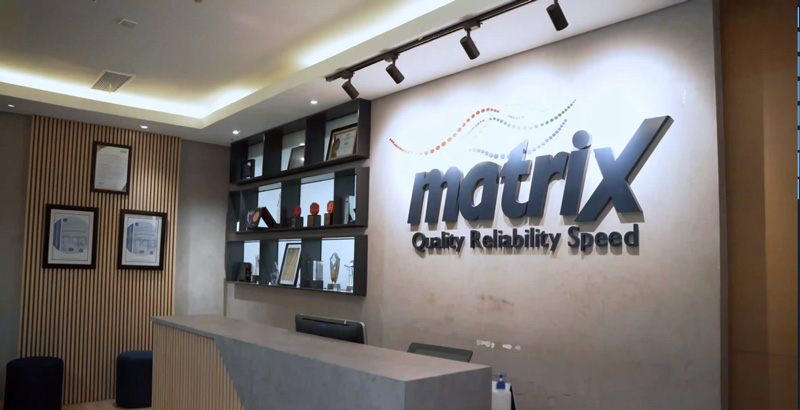 Thomas Dragono, Managing Director of PT NAP Info Lintas Nusa, expressed his appreciation for Huawei's significant contribution to the global information and communications technology (ICT) industry, and its extensive technical expertise. He was delighted to collaborate with Huawei to deploy the Huawei's FusionModule2000, which offers swift deployment and adapts to various installation environments, in Plaza Kuningan.
Matrix NAP Info is committed to continuously improving and updating its current data centers to meet the ever-changing service requirements. Huawei will continue to provide the best services through the latest technologies to help Matrix NAP Info achieve digital transformation.