Revolutionizing Gansu's Transportation: Huawei Smart Modular Data Center Solution Takes the Lead in Digital Transformation
Longnan, a city located in the western Qinling Mountains, has long been plagued by frequent flooding due to its complex landform. The frequent flooding has hindered traffic and restricted economic development in the area, so much so that the people of Longnan have been eagerly anticipating the construction of an expressway for years.
In early 2016, the GHATG Construction Group invested in the construction of the Wujiu Expressway, which was constructed and managed by Gansu Changda Road Co., Ltd. The Wujiu Expressway spans a total length of 100.14 km, with 71 km open to traffic as of late 2022. The entire road is expected to be open to traffic by the end of 2023. The smooth and efficient Wujiu Expressway has greatly improved the outdated traffic system in Longnan, revitalizing economic development in rural areas.
Longnan residents regard the expressway as a digital smart road that paves the way to prosperity. As a demonstration project of the Ministry of Transport for its green and quality engineering, the Wujiu project incorporates cutting-edge technologies such as 5G, BIM, and GIS to create a digital, intelligent system that monitors traffic conditions in real time. The incorporated technologies effectively analyze bridge and tunnel maintenance, road structure, traffic, and load status, which helps to alleviate traffic congestion and ensure a smooth and high-speed transportation experience.
During the process of highway informatization, various services such as road network and traffic management, toll collection at toll stations, and road rescue generate a massive amount of data through the information system. As a result, it is crucial to quickly deploy simplified and reliable small data centers at each site to manage this data effectively. However, the challenge lies in the fact that these sites are widely distributed along the expressway, making it difficult to achieve unified management and implement service collaboration.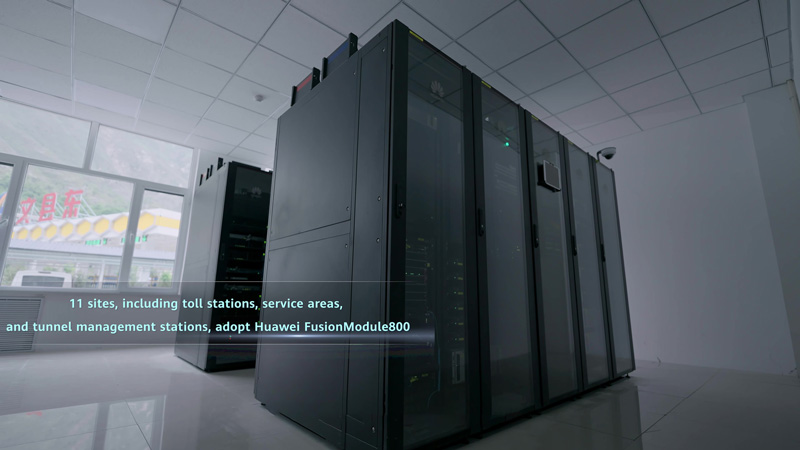 The lengthy construction period of traditional data centers, coupled with the complex onsite construction, often results in challenges in ensuring engineering quality and unified management. These challenges were further compounded by the tight schedule faced by the Wujiu Expressway data center construction project, which required services to go live within just one month.
To meet the go-live deadline and realize streamlined O&M management, Huawei's FusionModule800 smart modular solution was implemented at 11 sites, including toll stations, service areas, and tunnel management stations. Additionally, Huawei's FusionModule2000 smart modular solution was deployed at the monitoring subcenters. The entire expressway was equipped with Huawei solutions within a month.
Integrated Design and Rapid Deployment Significantly Reduce Construction Time
The FusionModule800 is a state-of-the-art data center solution that is pre-installed and pre-commissioned in the factory, ensuring maximum efficiency and reliability. The core components are prefabricated in the factory, allowing for plug-and-play onsite installation and rapid deployment. The product integrates power distribution, UPS, cooling, monitoring, cabinet, and fire extinguishing modules to create a simplified data center. The solution enables a smart module to be built within 4 hours and replicated to quickly complete equipment room construction at all sites, significantly reducing construction time.
Intelligent O&M and Streamlined Management Minimize Onsite Maintenance Visits
Huawei's FusionModule800 smart modular solution incorporates an innovative automatic door opening feature. This feature enables the door to open automatically when the temperature in the equipment room exceeds a certain threshold, facilitating efficient heat dissipation. Furthermore, the solution includes an alarm convergence system that enables swift rectification of faults and timely handling of equipment room exceptions, ensuring the uninterrupted and stable operation of data centers.
The integrated equipment rooms at each site are monitored and managed in a unified manner, ensuring optimal power and environmental conditions. The running status of each equipment room can be accessed remotely, enabling centralized management from the monitoring center without the need for on-site personnel. This reduces the need for site visits, streamlines operations, and facilitates the smart construction and operation of the Wujiu Expressway.
Great roads not only provide convenience for transportation but also contribute to the overall well-being of society. They are essential for economic growth and prosperity. The Wujiu Expressway and the Qingfu Highway, which is a '5G + smart highway' demo project, are prime examples of how modern infrastructure can transform traffic lanes into economic corridors. As a leading technology company, Huawei is committed to driving the construction of Gansu's digital smart transportation.